Seen us out there in the world?
Along with our undoubtedly fierce passion for the best UK online casino games, getting involved with interesting projects, communities and events in the UK is something we are truly excited about here at CasinoGuide.
We have already been part of a number of projects and events, including our monthly £50 Amazon giftcard giveaways, and sponsorship of the St Patrick's Raceday at Fontwell. There's more to come as well, so watch this space!
If you wish to inquire about a potential sponsorship by CasinoGuide, get in touch and let us know!
eSports have now progressed beyond simply being the 'noisy neighbours' to more classic forms of online entertainment like online casinos and sports betting. The eSports revolution has been gaining pace for the past 4-5 years now, and is showing no signs of slowing down.
In this report we examine some of the statistics behind the success of eSports, discuss its effect on casino gaming in the UK and around the world, and predict what the future may hold for the eSports industry in the UK.
If you wish to feature this content on your site or news outlet, feel free to contact us.
Casino Hire Discount Offers
Casino Hire events are a fantastic way for you to really make your mark on an event, and create an experience that your guests won't forget in a hurry!
It's now easier than ever to find companies who will help you to organise a unique and engaging casino party, while providing all of the equipment and manpower needed to make it happen.
At CasinoGuide we love to see events like these, as they encourage people to try out casino gaming for the first time, which we think is fantastic. That is why we are offering selected event organisers huge discounts on their next casino hire event - get in touch for more details and to apply!
GoFest Family Sports Festival
We are always looking for bold, interesting and fun new ideas to support - and GoFest Family Sport Festival fits the bill in every respect!
Founded in 2015, it has seen huge success with sports festivals held in Guildford. So much so in fact, that this year GoFest is expanding to the North, giving the families of Manchester and the surrounding areas the opportunity to take part in this fantastic concept.
We at Casino Guide are very proud to be affiliated with GoFest, and wish founder Paul Farris all the best of luck in making this year's events a success.
St Patrick's Raceday
We kicked off our sponsorship campaign for 2017 with this superbly executed horse racing event at Fontwell Park Racecourse, in the South of England.
The festivities were in full swing for St Patrick's Day, and Fontwell Park outdid themselves as usual, with  live Irish music from the Cracklin' Griffins and a wide range of Irish food and drinks - the Guinness was flowing!
The majority of the races on the day went to the favourites, and the weather held out well for a good day all round.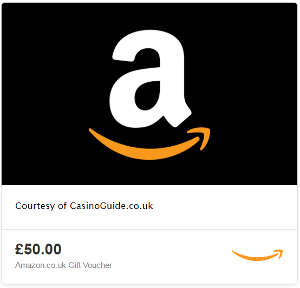 CASINOGUIDE £50 AMAZON GIFTCARD GIVEAWAY
In the first four months of 2017, we held the CasinoGuide Amazon Giftcard Giveaway, where the winner received a £50 Amazon giftcard to spend on anything they like!
The best thing about our monthly giveaway: it's completely free to enter. All you need to do is complete certain actions, such as sharing the giveaway with your friends or winning a game, which qualify you for entries.
Our giveaway winners are chosen completely at random, so every entry has an equal chance of winning - but the more entries you make, the bigger your chance of getting the prize will be.
If you would like to enter, see below to find out if there is a giveaway running at the current time. If there is, just follow the instructions below for your chance to win £50 to spend at Amazon.co.uk!
Past Winners
January: Richard | February: Becky | March: Lorna | April: Debbie