Live Baccarat, like all live casino games, attempt to emulate the feeling of playing at a land-based casino as closely as possible. This is achieved by having a real-life human run the game in front of a webcam. Not only does the dealer run the game, but they also might tell some jokes and talk with other players. This is clearly much more engaging than playing a game that uses just an AI dealer.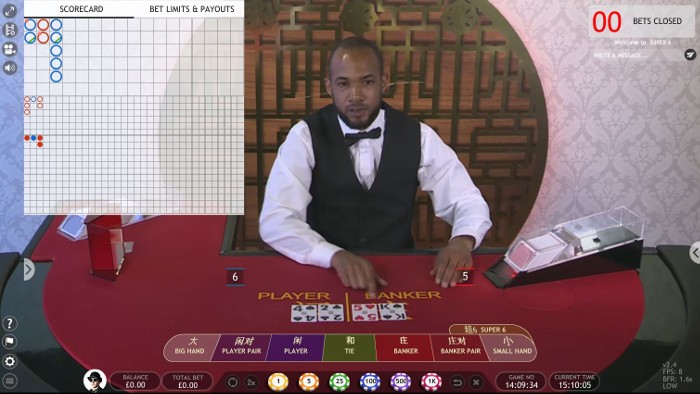 Live Baccarat gives you the authentic experience in the comfort of your own home. You should be able to run most live Baccarat games on almost any device. For example, it should work perfectly on a phone, tablet, or laptop.
Generally, you can expect the video and audio to be very high quality. Most live Baccarat games will have multiple camera angles, displaying close-ups of the cards so you won't miss out on any details. If you don't speak English as a first language, there's a very high chance that there are live Baccarat games available in your native language.
How To Play Baccarat
Here are the basic steps to playing live Baccarat:
In live Baccarat, there are 3 possible outcomes: a player win, a banker win, or a draw.
The cards 2 through 9 have a face value and king, queen, and jack cards have a value of 0. An ace has a value of 1.
The dealer will deal out the cards face-up. 2 cards will be dealt to the player and banker. Whoever has a hand that's the closest to 9 is the winner.
You can bet on the player's hand or the banker's hand. If you bet on the player's hand and the player wins, your wager is doubled. If you bet and win on the banker's hand, you win 95% of your wager.
If you want more information on how to play live Baccarat, take a look at our main online Baccarat page. There, we go into a lot more detail about how to play the game.
Live Baccarat Bet Limits
Live Baccarat has bet amounts to suit pretty much any budget. If you just want to have some low stakes fun, there are plenty of tables offering bets for as little as £1. If you're a bit more of a high roller, you can find other live Baccarat tables with incredibly high bets. For example, you could find a table with a £50,000 maximum bet!
Live Baccarat Bonuses
The most successful online gamblers are always looking for ways to get an edge. A great way to do that is to keep an eye out for bonus offers. Bonuses are a great way for you to take your bankroll further.
Baccarat bonus offers might include playing a few hands for free, or it might include an offer to multiply your winnings. When you register for a new casino, always take a look for any bonus codes you might be able to use. Often, you need to put bonus codes in as you make the initial registration on your account.
Be aware that bonus offers are often tied up with terms and conditions. They might require that you wager a certain amount before they're activated. Whenever you take advantage of live Baccarat online offers, always read and understand the terms and conditions. You might lose out on some money due to a technicality if you don't.