When playing Slots online, you may notice some recurring themes. This is no coincidence; casino operators know which themes resonate with their target players and choose accordingly.
In this article, we explore the themes found in the top 100 Slots games in the UK. Also, we discuss the reasons behind why the top theme is so popular across online casinos.
Working from a list of the 100 most popular Slots games in the UK right now, we were able to identify a number of themes which appeared more than most. This is represented in the graph below: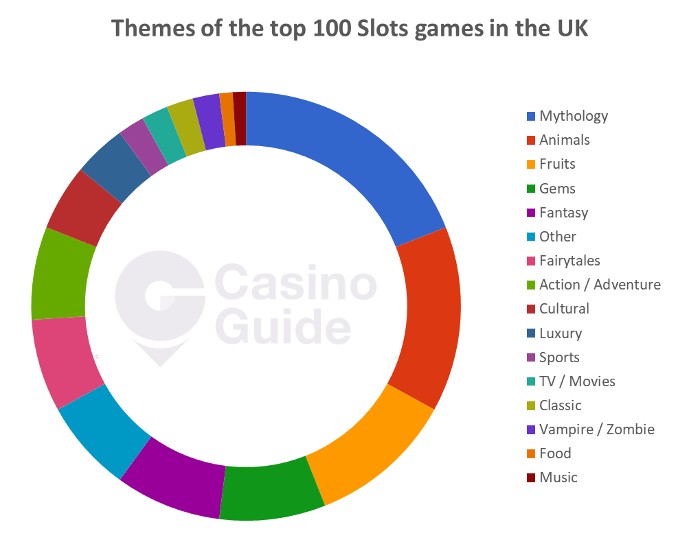 As you can see from our data, there are clearly some themes that are more popular than others. The most commonly used theme is mythology, with 19 out of 100 games built on this premise.
There is no shortage of Slots games depicting the mythological beliefs or historical cultures such as ancient Rome or ancient Greece. Generally, European mythologies were more commonly seen than those of other cultures.
Why is mythology so popular?
There are many possible reasons as to why mythology is a common theme in Slots games. One of the main reasons this theme is so popular with developers is because these are ideas which are firmly in the public domain.
Mythological gods such as Zeus and Poseidon are depicted using tried and tested designs. These gods have been depicted for thousands of years - there is certainly no one entity who has intellectual property rights on these mythical figures. Like any business, casino operators are interested in making money; and by using mythological figures in their games, they avoid needing to pay any licensing fees.
Compare this to making a game that has Iron Man or Spider-Man in it. You would probably have to pay a heavy licensing fee to Disney and you would also have to work closely with them to make sure you produce something the company finds acceptable. On the other hand, you could just make a game based around Greek myths and encounter no such issues.
Symbolism
Mythology and Slots also have something in common: they both rely heavily on symbolism. Any kind of mythos generally has a pantheon of gods to choose from, each with their own symbols.
A lot of these symbols are well known to the general public. For example, if you use a lightning bolt to depict Zeus in your game, the majority of people are going to instantly make the connection in their minds.
Making good symbols and logos for a Slots game can be an expensive and time-consuming process. If you choose a mythology theme for your Slots game, you have access to some of the most popular and well-known symbols in history, free from any copyright obligations.
Lower chances of offending people
Mythology deals with religion that is no longer widely practised or believed in. This means you can depict these mythological figures without running the risk of offending anyone. Christianity certainly has some great symbolism you could use in a Slots game, but it would be nearly impossible to get it accepted by the general public. With mythology, on the other hand, no one is going to be offended.
By far, the most popular mythology in Slots games is Greek mythology. There are a number of reasons for this. Firstly, our records of Greek mythology are fairly complete. We have a wide range of historical sources that paint a full picture of these mythological beliefs, and many actually originate in ancient Greece.
We don't have anywhere near as clear of a picture when it comes to the mythology of other historical cultures. For example, many of our sources for Norse mythology were actually written by Christians who saw it as a heretical religion. That said, there are games based around Vikings and other Norse themes.
Another reason mythology is such a popular theme is because it has had a huge influence on western culture. To this day, many of the most popular intellectual properties draw from mythology. Their themes have been popular for thousands of years, so it's only natural that casino operators want to capitalise on this popularity.
Animals as Another Popular Theme
Animals are another popular theme you can find in Slots games. In fact, this particular style has become a lot more popular in the last few years. Just like with mythology, using animal symbols is a great way to connect with a wider audience. Unless you're using something obscure, everyone can recognise animals.
And similar to how mythology works, you can't copyright animals. As long as you don't rip off another company's design (for example, a mouse that looks like Disney's Mickey Mouse), you can pretty much use animals however you want.
However, the new UK Gambling Commission regulations introduced in 2018 does limit this a little - any animal which could be deemed 'child-friendly' is not allowed in the UK market. Which is why you might not see the Royal Panda mascot so much any more.