Authentic Gaming is one of the world's most popular providers of live casino games. Founded back in 2015, this organisation has rapidly developed into a powerhouse in the igaming space, working with more than 30 developers. Producing a variety of live roulette games that are streamed live from premium casinos across the globe, Authentic has attracted the attention of some of the industry's top casino operators. Consequently, their current client base includes online casinos like Unibet Casino, Leo Vegas and Nyx Group. As of 2017, Authentic Gaming has operated out of its offices in Malta. They have also struck deals with several brick-and-mortar casinos to live stream their casino tables.
Most popular games by Authentic Gaming
Authentic Roulette Royal Casino
Authentic Roulette Royal Casino is one of the best titles from the Authentic Gaming stable. Broadcast live from the Royal Casino in Aarhus, Denmark, this European roulette table simply oozes class and sophistication. Several HD cameras live stream the entertainment from multiple angles, including a beautiful overhead shot. Online users can immerse themselves fully in the action.
The game is played according to standard European rules. Players must select and place their bet before the timer runs. All of the standard betting options are available. However, Royal Casino Roulette also offers a number of side bets on the racetrack, including four French bets: Viosins du Zero, Jeu Zero Tiers (Series 5/8) and Orphelins Cheval. The minimum bet is €0.50, while the maximum bet is €100. This betting range makes Royal Casino Roulette the ideal option for both new and experienced players.
Authentic Roulette Superior
Authentic Roulette Superior is streamed live from the beautiful Saint Vincent Resort in Italy. This French roulette table is hosted by four professional live dealers, with multiple cameras capturing every angle of the excitement. Online players are treated to the genuine feel of a real-life casino.
As with the European version, players are afforded many different betting options. The user interface includes different chip sizes and customisable limits for players to access. The game interface contains an auto bet feature, enabling players to automatically place bets for a set number of spins. Detailed stats are also provided, to help gamblers as they make decisions.
Live XL Roulette
If you're in the mood for roulette with a twist, might we suggest a round of Live XL Roulette? This title is broadcast 24/7 and offers a maximum return of 500x on a straight-up bet. Live XL Roulette offers a European table along with a range of multipliers that can greatly enhance a player's winnings. A lively presenter is on hand to host the game and engage patrons as the roulette wheel spins.
Before placing a bet, users will need to select one of four playing options:
Standard option – this is the standard European roulette game. No multipliers are present with this option and the usual paytable is used.
XL Roulette option – this game includes the option of having between 1 and 5 multipliers on the wheel, each multiplier paying up to a maximum of 500x. The paytable is adjusted with this version, paying straight-up numbers at 29:1.
XXL Roulette option – offers the option of adding 2 to 8 multipliers to the wheel, each multiplier paying up to a maximum of 500x the player's wager.
XXXL Roulette option – this mode provides the option of adding 3 to 11 multipliers, each paying up to a maximum of 500x. Once again, the paytable is modified, with straight-up number odds being paid at 17:1.
With Live XL Roulette, players switch up modes between every spin.
Blaze Live Auto Roulette
For those looking for a quick round, Blaze Live Auto Roulette is the ideal option. The game is broadcast from the company's live studio in Malta 24 hours a day, 7 days a week. During certain hours of the day, a live presenter will play host, interacting with online players and announcing the outcome of each spin, although they will not touch the roulette wheel. When there is no presenter available, the wheel runs on an automated basis.
Blaze Live Roulette is played utilising a European wheel with 36 numbered slots and a single zero. Each round only lasts 45 seconds, so players need to make speedy decisions. All of the usual bet options are present – line, corner, street, split, straight, even/odd, high/low and red/black. Column and dozen bets are also available.
Authentic Live Roulette Turbo
Authentic's Live Roulette is live-streamed directly from Casino International in Georgia. This European-style variant is available in real-time and hosted by an actual croupier. Authentic Gaming makes use of a wide-angle HD video in its live stream. Multiple camera angles are accessible to give online players the best possible view of the table and wheel. Top-quality audio systems perfectly capture the sounds of the casino floor, leaving an online player with that genuine casino feel.
To play, users will choose the numbers and make a bet by selecting one of the chip sizes displayed on the user interface. The minimum bet is €0.50, while the maximum table bet is €50 per spin. Players have all of the usual betting options available to them, such as street, split, straight up and high/low. With Live Roulette Turbo, users will have 60 seconds to make a decision and place their wager. Winning numbers are immediately announced and winnings are deposited instantly.
What makes Authentic Gaming Games Stand Out?
Authentic Gaming has sought to differentiate itself from its peers in a number of respects. Firstly, the company focuses exclusively on developing live casino roulette games. Secondly, they have forgone the usual route of building live studios, instead preferring to broadcast directly from brick-and-mortar casino floors. In doing so, Authentic has managed to inject a feeling of realism and, dare we say it, authenticity into its games.
While many developers would have baulked at making such risky moves, Authentic has successfully carved out a niche market for themselves and have reaped the rewards as a result.
Bonuses on Authentic Gaming Games
As a live software provider, Authentic Gaming is not responsible for any bonuses offered by casinos which it supplies. Bonuses and promotional offers are set by the various casino operators and, as a result, vary greatly. That being said, it is not uncommon to see that Authentic's live casino games are accompanied by a range of deposit bonuses, or even as part of a casino's loyalty program offering.
Authentic Gaming Live Casino Games
As already mentioned, the Authentic Gaming collection comprises solely of live casino roulette games. As such, players should not expect to see live blackjack, poker or baccarat. Authentic live streams roulette games from the casino floors of some of the most respected land-based casinos in the world. Authentic has invested time and energy into developing exciting and innovative titles that provide excellent entertainment.
Authentic Gaming Live Roulette
Considering that Live Roulette is Authentic's only live casino game, it is safe to assume that they do it very well. Their premium catalogue offers a diverse range of titles, catering to different styles and tastes. Variants include games like Auto Roulette Live Classic, Blaze Live Roulette, Auto Roulette Speed and Live Roulette Superior.
Authentic Gaming Live Blackjack
Authentic Gaming does not presently offer any variants of live blackjack.
Authentic Gaming Live Baccarat
Authentic Gaming does not presently offer any variants of live baccarat. There has been recent talk of the organisation possibly launching a live dealer baccarat title, but that has not materialised as yet.
Authentic Gaming Games on Mobile
Authentic Gaming recognised the importance of mobile play quite early on, essentially developing their user interface with mobile gaming in mind. By doing this, they have managed to eliminate almost all of the problems generally associated with playing on mobile devices. The result? Smooth gameplay, visually stimulating graphics and an incredibly user-friendly screen. Authentic Gaming titles can be played on most tablet and mobile devices, across Android and iOS platforms.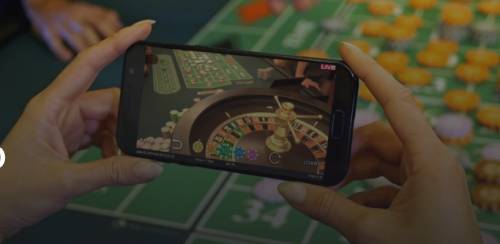 Authentic Gaming Live Studio and Croupiers
When it comes to live studios, Authentic Gaming has certainly taken the road less travelled. The company does a live studio based in Malta, from which they offer Auto Roulette games (all single-zero European style). Studio tables are hosted by professional presenters (not croupiers) who do not interact with the automatic roulette wheel.
The majority of Authentic's live roulette casino games, however, are broadcast from the floors of premium casinos across the world. These casinos include:
Saint Vincent Resort and Casino in Italy;
Royal Casino in Denmark;
Casino International Batumi, based in Georgia;
Aspers, based in London;
Platinum Casino, in Romania;
Foxwoods Resort Casino, in the USA
These casinos generally showcase Authentic's European roulette variations. Due to the live environment of the casino floors, Authentic Gaming croupiers and live dealers are all well-dressed and incredibly professional. All croupiers speak English fluently, but because the interface is multilingual, online players can choose from a variety of language options such as Spanish and German.
How much money can I win on Authentic Gaming Games?
Due to the nature of live roulette, big wins are certainly a possibility. Authentic Gaming's product range has been developed to cater to different levels of playing experience. So whether you're a complete novice or an experienced player, you are sure to find an option that suits your tastes. In addition, Authentic has added several interesting features to spice up their live roulette games. One such feature is the Bet on Stats option. With this feature, players can bet on the hit rates of various numbers, instead of the roulette numbers themselves. Another fun feature is the Neighbours Bet option, where users can wager on up to 9 neighbours.
Authentic Gaming also offers a range of private tables and VIP tables that perfectly cater to high rollers.
Summary about Authentic Gaming
Despite the obvious limitations on its variety of gaming titles, Authentic Gaming has thrived by delivering a product range that is incredibly immersive and highly entertaining. The quality of their live-streamed roulette games is second to none and offers online players the most genuine casino feel imaginable. By directing all their energy into one game type, Authentic Gaming has set itself apart as the leading authority on live roulette casino games. This provider has big things in store.
FAQ About Authentic Gaming
Are Authentic Gaming Games safe to play?

Authentic Gaming holds licenses from both the Malta Gaming Authority and the UK Gambling Commission. Their clients include online casino giants such as Mr Geen, LeoVegas and EveryMatrix. To hold such positions, players can be sure that their games have undergone rigorous testing and are very safe to play.

Can I win real money on Authentic Gaming games?

Yes, you can. Users can place bets on any one of Authentic's live roulette casino games and, if they are lucky, win back real money!

Can I get a bonus on Authentic Gaming games?

As a software provider, Authentic Gaming does not set bonuses on any games, as this will be handled by the casino operator. It is likely, however, that certain online casinos may choose to attach deposit bonuses and others to some of the live roulette games.

Are Authentic Gaming Games restricted in any countries?

Since they are a software provider, Authentic Gaming games may be restricted by virtue of the casino operator being unable to conduct business in a particular country or region. It is always advisable to check out the restrictions of the online casino before depositing your money.

Do Authentic Gaming Games need to be licensed?

Yes, they do. As a casino software provider, Authentic Gaming needs to be licensed to supply its impressive network of clients. Thankfully, they carry licenses from two of the strictest gambling authorities on earth.