Football has of course changed in countless ways over the past 30 years. The amount of money earned by professional footballers and managers has grown exponentially. Football is a global sport - without a doubt the most popular sport on the planet - European football matches are broadcast and watched all around the globe and no league is more popular than the English Premier League.
It goes without saying that gambling has become a huge part of football. The jerseys of a great many football teams are adorned with online casino and gambling logos. And in the 2019/20 Premier League season, 11/20 Premier League clubs have a casino or gambling company as their main shirt sponsor, this is up from 10/20 in the previous year.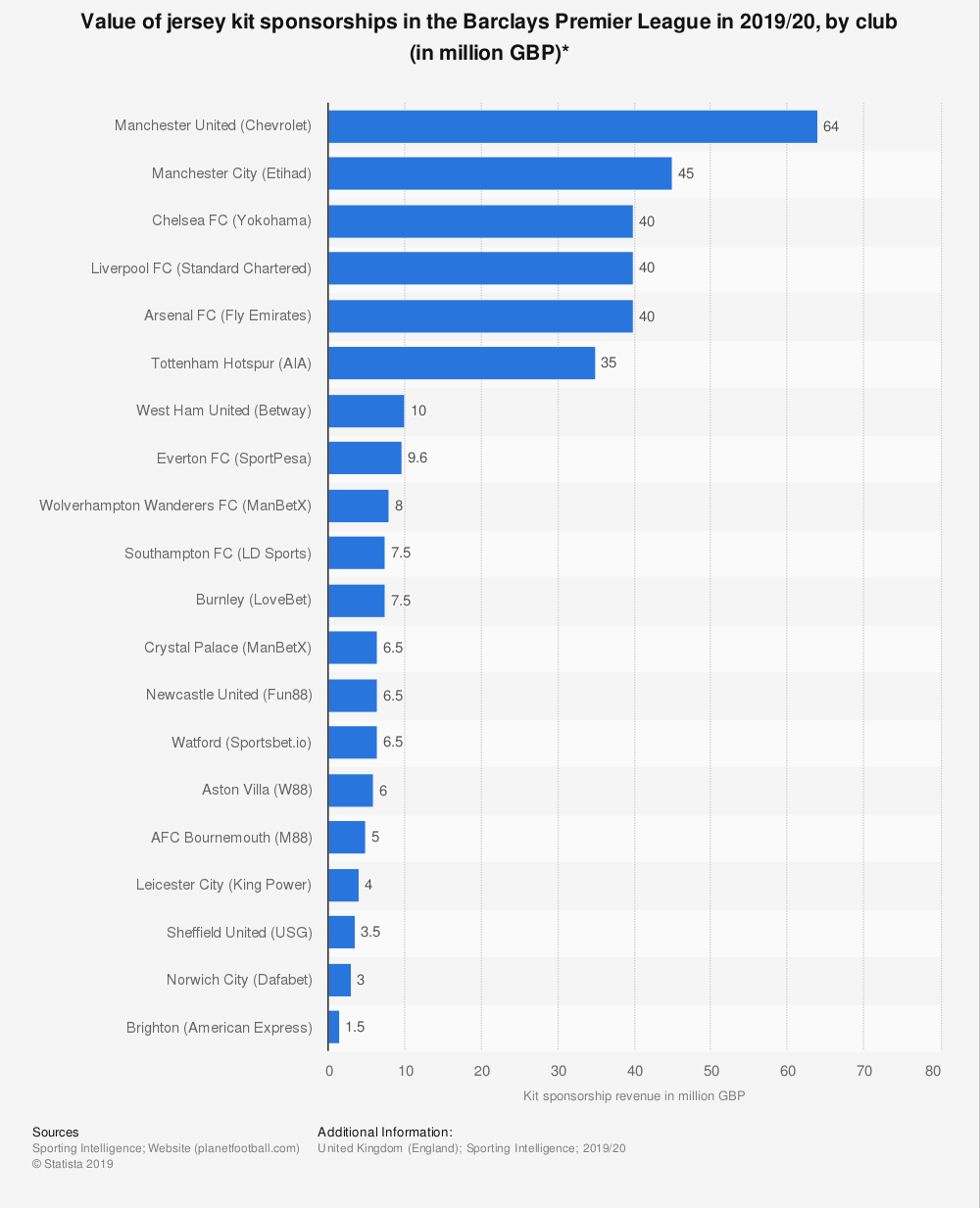 Find more statistics at Statista
Interestingly, as you can see from the graph above, none of the top six Premier League clubs has a gambling company as their main sponsor. While half of the clubs in the league have gambling shirt sponsors, of the top six, four are sponsored by airlines, one by a car company, and one by an insurance company. However, they will undoubtedly have an affiliation of some sort with a gambling or casino company – it is far too lucrative not to - with the Premier League representing global appeal and marketing for casinos and sportsbooks, a chance to be associated with the top teams and be seen of screens everywhere, it's a no-brainer, but expensive endeavour.
The graph shows the total value of shirt sponsorship, casino and gambling companies give over £65 million to Premier League football clubs in shirt sponsorship alone. Casino and gambling companies are great for football clubs and vice versa. If casino companies are able to lure sports betting fans onto their online blackjack tables whilst also offering them a sportsbook, they could potentially double their money.
If we look at the total value, the figures are even more impressive. There's clearly big money in kit sponsorships. The total value of kit sponsorship for 2019/2020 was £349.1m. Compare this with 2018/19 when it was £315.6m and 2017/8 the total was £281.8 mill. Year on year the cost of Premier League kit sponsorship is expanding rapidly. Further to this, when comparing the 2017/18 figures with 2019/20 the top value team- in terms of kit sponsorship-, Manchester United, secured a large increase in revenue from shirt sponsorship, jumping from the value of £47m to £64m in the space of 2 years.
On the regulation side of things, 2019 saw the UKGC turn their sites to kit sponsorships and gambling affiliation, updating the LCCPs to make clear they consider the matter part of responsible gambling and that no sponsorship is associated with under 18 clubs or players. There has also been political pressure to reduce gambling sponsorship in sports. The tightening regulation has led to Ladbrokes ending it's sports sponsorship altogether.