Football is no longer just a sport, it is a multi-billion-pound business. Gone are the days when a professional football club's one and only aim was to simply win football matches. Eighteen years into the 21st century, globalisation has taken football by the scruff of the neck. Football clubs are now set up in order to do everything they can to make money.
Gambling Sponsors In Football
It is no lie that the most successful football clubs are the ones which spend the most money – it's hard to argue that money usually results in success on the football field. It is also not untrue to state how much the casino and gambling industry is now involved with professional football.
Some of the biggest and best online casinos in the UK and gambling companies pump hundreds of millions of pounds into the world of football. Through sponsorship, match boxes, television adverts, billboards and a variety of other means, any person involved in any way with a football club, be they a fan or an employee, will not have escaped an interaction of some sort with a casino and gambling company.
Shirt Sponsorship
Football has of course changed in countless ways over the past 30 years. The amount of money earned by professional footballers and managers has grown exponentially. Football is a global sport – without a doubt the most popular sport on the planet – European football matches are broadcast and watched all around the globe and no league is more popular than the English Premier League.
It goes without saying that gambling has become a huge part of football. The jerseys of a great many football teams are adorned with online casino and gambling logos. And in the 2019/20 Premier League season, 11/20 Premier League clubs have a casino or gambling company as their main shirt sponsor, this is up from 10/20 in the previous year.
Interestingly, as you can see from the graph above, none of the top six Premier League clubs has a gambling company as their main sponsor. While half of the clubs in the league have gambling shirt sponsors, of the top six, four are sponsored by airlines, one by a car company, and one by an insurance company. However, they will undoubtedly have an affiliation of some sort with a gambling or casino company – it is far too lucrative not to – with the Premier League representing global appeal and marketing for casinos and sportsbooks, a chance to be associated with the top teams and be seen of screens everywhere, it's a no-brainer, but expensive endeavour.
The graph shows the total value of shirt sponsorship, casino and gambling companies give over £65 million to Premier League football clubs in shirt sponsorship alone. Casino and gambling companies are great for football clubs and vice versa. If casino companies are able to lure sports betting fans onto their online blackjack tables whilst also offering them a sportsbook, they could potentially double their money.
If we look at the total value, the figures are even more impressive. There's clearly big money in kit sponsorships. The total value of kit sponsorship for 2019/2020 was £349.1m. Compare this with 2018/19 when it was £315.6m and 2017/8 the total was £281.8 mill. Year on year the cost of Premier League kit sponsorship is expanding rapidly. Further to this, when comparing the 2017/18 figures with 2019/20 the top value team- in terms of kit sponsorship-, Manchester United, secured a large increase in revenue from shirt sponsorship, jumping from the value of £47m to £64m in the space of 2 years.
On the regulation side of things, 2019 saw the UKGC turn their sites to kit sponsorships and gambling affiliation, updating the LCCPs to make clear they consider the matter part of responsible gambling and that no sponsorship is associated with under 18 clubs or players. There has also been political pressure to reduce gambling sponsorship in sports. The tightening regulation has led to Ladbrokes ending it's sports sponsorship altogether.
Why Do Casino And Gambling Companies Choose The Premier League?
According to the Agence France-Presse  (AFP), nearly one billion pounds was gambled globally on each Premier League match. Premier League sponsorship means big money to bookmakers. In 2016, each Premier League match was viewed by an average of 12 million people worldwide, whilst the BBCs Match of the Day draws in an average of four million viewers per week. These viewers are gold mines for betting companies. 95% of TV advertising breaks during UK live football matches contain at least one gambling advert.
For many people, watching football and betting on football come hand in hand, betting on a football match has become the norm for a large amount of football fans and it is for this reason why casino and gambling company revenues have gone through the roof. The betting industry in the UK alone generates revenue of almost £14bn per year.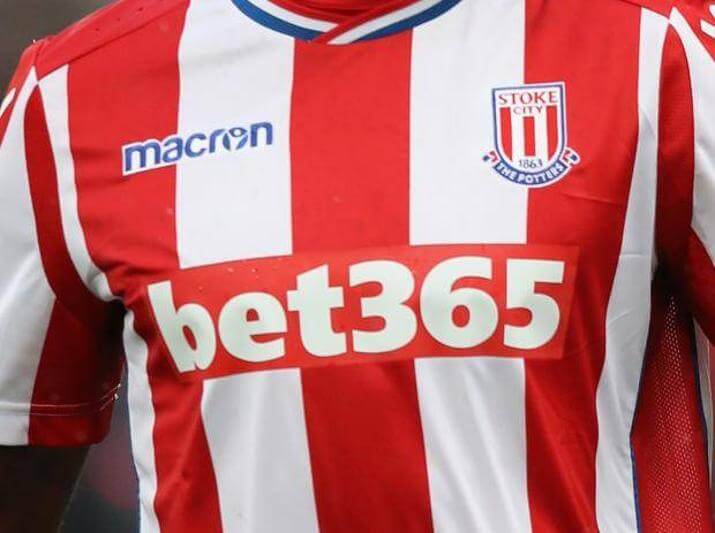 How Did The Online Gambling Industry In The UK Become So Powerful?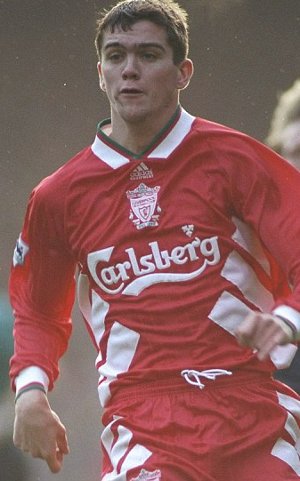 Before casino and gambling companies, the main sponsors on the front of football jerseys were primarily alcohol companies. Various alcohol companies sponsored the top teams in England and of course football clubs were all too happy to accept the sponsorship money from them. However, this began to change when Tony Blair's New Labour came to power. Long story short; New Labour deregulated much of the gambling industry in order to allow the industry to promote themselves at sports stadiums and on televisions.
Of course, both the New Labour government and current Conservative government receive a substantial tax take of the profits that online casino and bookmakers earn. But it is partly thanks to New Labour that football in England has become the lucrative billion-pound business that it is today. Whether this changes in the future remains to be seen but world football and the Premier League especially is one of the most lucrative industries in the world and online gambling has become a part of this now.
Thanks to the globalisation of modern day football and the English Premier League especially, companies worldwide are tripping over each in order to ensure that their company brand is plastered across a Premier League football club's jersey. Having your company on the front of a football shirt does more than just promote said company to a wider audience, it also creates an illusion of trust for the company. Liverpool, having Carlsberg on the front of their jersey, gave the impression that they were giving a thumbs up to the brand, telling supporters – Carlsberg is good, Liverpool Football Club likes the product therefore, so should you.
Casino and gambling companies by definition are not the most trustworthy or morally adept of companies but when fans see their logos time and time again plastered across their favourite football teams on their televisions, an element of trust is created. They're no longer rogue gambling companies trying to take your money, they're sponsors of your favourite football teams, helping your team win a league title or battle valiantly against relegation.
Who knows, maybe a Norwich City supporter will become so used to seeing LeoVegas sprawled across his beloved football team's shirt and decide to browse the website before trying out an online slots or bingo game. That is the power of the sponsor.
The Fans' Opinion
When it comes to gambling sponsorships in football the morality debate is always fierce. For some, gambling is something that they do not wish to be associated with football. These people go as far as to compare online gambling to a disease sweeping the nation – the dangers associated with gambling addictions are of course obvious.
On the other hand, other football club supporters are unfazed in regards to what sponsor is on the front of their football club's shirt. As far as they're concerned, as long as the sponsors are paying handsomely to the benefit of the team, they couldn't care less who the actual sponsor is.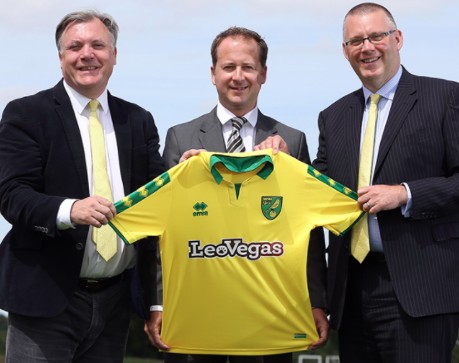 In June 2017, Norwich City FC announced that the mobile casino and sports betting operator LeoVegas would be their new sponsor for the 2017/18 football season. This announcement made headlines in the local newspapers where journalists and fans discussed the morality surrounding the decision that Norwich took to receive money and publicise an online gambling website. In one online poll, a Norwich local newspaper asked the question to Norwich fans: "Should Norwich City have a betting company as the club's main sponsors?" Almost 4000 people voted with 64% of them voting "no." Incidentally, Leo Vegas also sponsor Brentford Football Club as well as rugby league side Leicester Tigers.
Gambling company sponsorship is not limited solely to football jerseys. SkyBet sponsor the English Championship, Coral sponsor a variety of English football club stadiums and Bet 365 adverts can be regularly seen on the advertisement boards around the sides of Premier League football pitches. If football fans were to take a stand against gambling companies, they would need to go beyond protesting against their potential shirt sponsors.
Brand Power In Football
Thanks to the sheer number of people who watch football, football clubs have become brands and so have the players and managers. David Beckham for example, has been used to promote a vast variety of non-football products and Jose Mourinho was once used to sponsor American Express.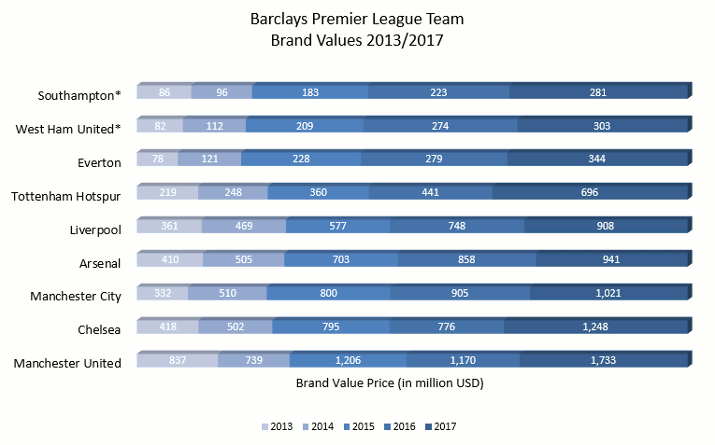 The brand value of Premier League clubs has sky rocketed in the last four years alone and this number is only set to increase. It is a similar situation in other top European Leagues too; Real Madrid and Barcelona in Spain, Bayern Munich in Germany and Juventus in Italy all have huge brand value. Thanks to the endless advertisement possibilities, the world of football has more money than ever and this does not look like slowing down anytime soon.
Club Revenues In Football
The graphic below shows the Premier League has by far and away the largest revenue take of Europe's top five leagues. Companies will always ensure that their product is viewed by the largest amount of people possible and because the Premier League is the most watched football league in the world, companies will pay big money to clubs in order to allow them to decorate their shirt with the company's logos.
The relationship between online casino/gambling companies and football clubs is a symbiotic one for both parties; and don't forget lucrative. Despite the morality issues surrounding gambling companies, (maybe this is why the top six teams have refrained from using bookmakers as their main shirt sponsors) Premier League clubs and the football world in general are more than happy to advertise gambling companies and why shouldn't they given the large amount of money this advertisement generates.
Final Words
Overall it is difficult to determine the long term effect that gambling sponsorship will have on professional football. From a positive viewpoint, the money that gambling companies bring to football is huge. Theoretically speaking, the more money that finds its way into the Premier League, the more money the FA will have to spend on grass roots football. Furthermore, we live in a free market – if a person wants to be able to gamble their own money on a football match then why shouldn't they be allowed to?
On the flip side, the problems that come with sports betting are obvious. If sports betting was to disappear from society overnight, it would not necessarily be for the worst. Gambling addiction is an affliction that effects well over 100,000 people in the UK alone. Problem gambling is estimated to cost the UK up to £1.2 billion per year. Although gambling companies are forced to include phrases akin to 'please gamble responsibly' in all of their ads, in reality the Premier League is one big advert for online gambling. Whether this is a net positive or a negative thing remains to be seen, however.