Blueprint Gaming is primarily a developer of Slots games. They have a wide variety of games available that suit various tastes and preferences.
As we said previously, they are big on licensed games. They have the rights to make Slots games based around various intellectual properties such as The Goonies or This Is Spinal Tap.
In terms of their original content, they have a few different themes they like to use. For example, they make a lot of games with a mythological theme; many of their games features ancient gods and cultures.
Blueprint Gaming also has some games with a more traditional aesthetic; for instance, Mystery Spin Deluxe features the classic fruit symbols we all know and love.
Most Popular Blueprint Gaming Games
Unsurprisingly, two of the most played Blueprint Gaming games use the Megaways™ feature, which has taken the Slots world by storm recently.
Safari Gold Megaways™
If you think this game looks familiar, it's not just your imagination. This game is actually a reskin of LeoVegas. That game was made for a specific website, whereas this is a version that any site can use. This is a classic example of a Megaways™ game; the reels will change at random, keeping things interesting.
Gods of Olympus Megaways™
This is another Megaways™ Slots game that's based around a mythological theme. This game keeps things interesting with several bonus rounds. For example, it's possible to earn power spins and free spins. 
Blueprint Gaming Slots Progressive Jackpots
As well as Megaways™ titles, Blueprint casinos also have a number of progressive jackpots games. When you play a progressive jackpot game, every other player who's playing globally is contributing to the jackpot. This means that you could earn a life changing amount of money. It's not unheard of for players to earn millions!
The best of these is King Spin Deluxe; a game that combines the old school with the new. It uses the classic fruit iconography, but it also uses modern, progressive jackpot mechanics.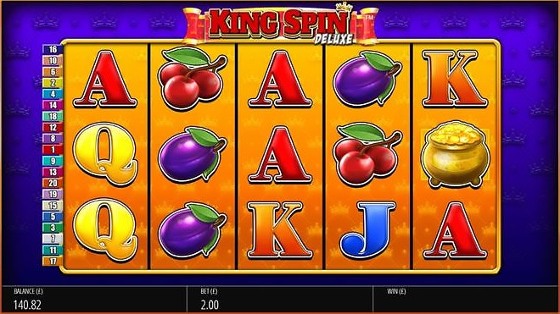 Blueprint Gaming Free Spins And Free Games
As we said, Blueprint Gaming is a company that likes to utilise interesting game mechanics. One type of mechanic you will see in their games is free spins. For example, in the game Super Lucky Charms, the ability to earn free spins is central to the experience.
You may also be able to get free spins for Blueprint Gaming titles as promotional offers. These kinds of free spins are handled by the website you're playing the game through, rather than through the developers themselves. Check out the promotional offers on your website of choice for more information.